ICC fully supported by Centurion Solar https://centurionsolar.co.za/
Inverter Monitoring Pylon Tech Communication
REAL-TIME ANALYTICS TO MAXIMISE YOUR SOLAR PERFORMANCE
Once your solar panels are installed, it's not enough to flip the switch, start making power and just walk away. You probably want to be able to monitor your system, make sure that everything is working properly, and check your energy production and income numbers occasionally. Having a reliable monitoring system with a nice-looking graphical interface that is easy to use and easy to understand is important.
What you will need is: Wi-Fi connection, ICC Software pack, Optional (Pylon Battery Communication cable)
INVERTER CONTROL CENTER
ICC supports most Voltronic inverters.
With ICC you can do the following:
Monitor multiple solar systems on a single dashboard, perfect for installers that need to monitor all of their installations at once.
Upload everything happening in your solar system to the internet in real-time. You can view the data from any web browser (local or cloud).
Monitor your solar system with IOS or Android app directly on your phone.
Will warn you of any faults in your system.
Support for Victron Energy BMV battery monitor, used for true state of charge (SOC) monitoring.
MQTT for live display values. For Android devices you can use MQTT dash.
Switch between grid and battery mode based on time setting or state of charge.
THE POWER IS IN THE DATA
Increase Energy Efficiency
By seeing exactly where energy is going, this software helps homeowners find energy hogs and save money each month.
Improve Energy Efficiency
Reduce how much energy is being generated from Eskom and how your usage affects your bill.
Maximize Storage ROI
Intelligently manage and control your solar inverters and batteries – enhancing the ROI for residential storage systems while cutting the payback period.
Maximize interfacing with Pylon Tech and other Batteries
Gauges Dashboard
The real-time overview of anything and everything happening in your system. Daily and hourly maximums, system efficiency, critical components temperature, together with a graph that can be zoomed into infinitely makes this the perfect dashboard to monitor just how well your system is performing.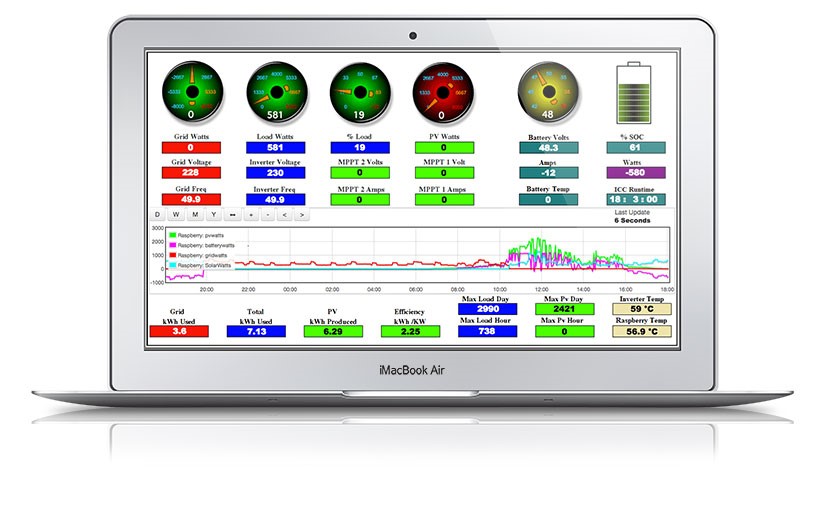 Easy Dashboard
The easy dashboard takes a minimalistic approach, showing only what you need to confirm that everything is running properly.  The power in and out of the system will show green, yellow or red based on configurable thresholds, to provide an at-a-glance view of the entire system. Called the Easy Dashboard, it's exactly that – EASY!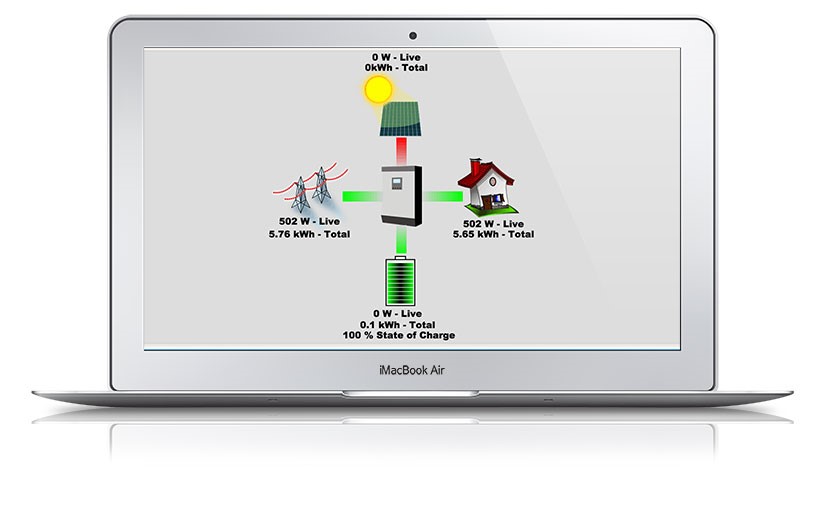 PV Production
The real-time energy production of your system is recorded over time to enable performance tracking of the system. The efficiency and daily total production is also calculated.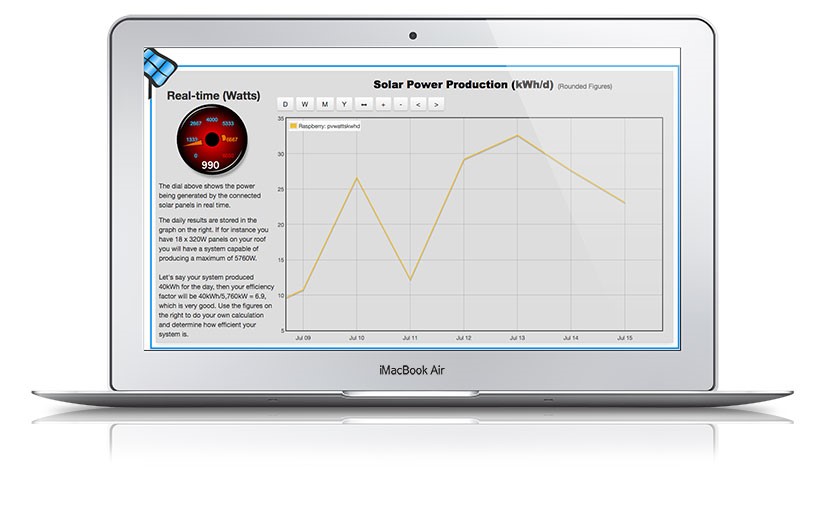 Battery Consumption
The amount of power going into or out of the connected battery stack is tracked over time as well. This helps to determine the SOH (State Of Health) of the battery stack, and is a critical measurement for today's high cycle, high discharge Lithium batteries.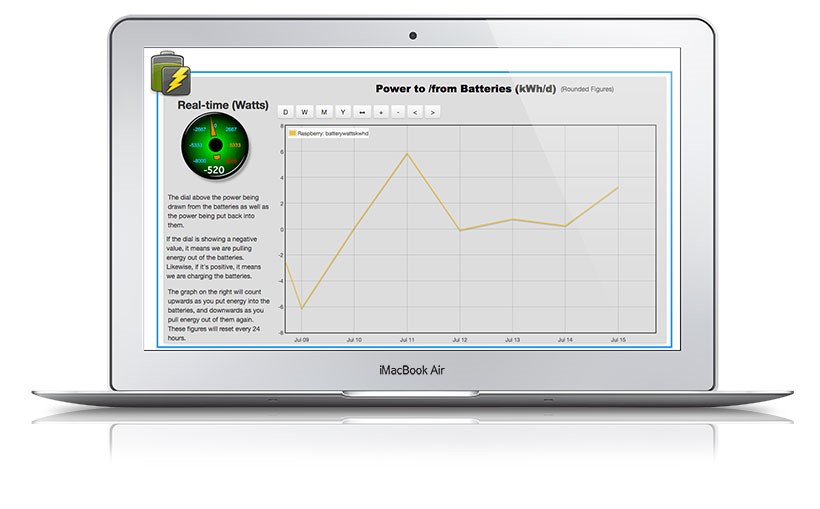 State of Charge Monitoring
Perhaps one of the most important graphs of the dashboard is the one that shows the state of charge of the batteries vs the voltage of the stack. This allows the user to see how well the connected battery stack performs over time, ensuring that the maximum battery life and performance is attained.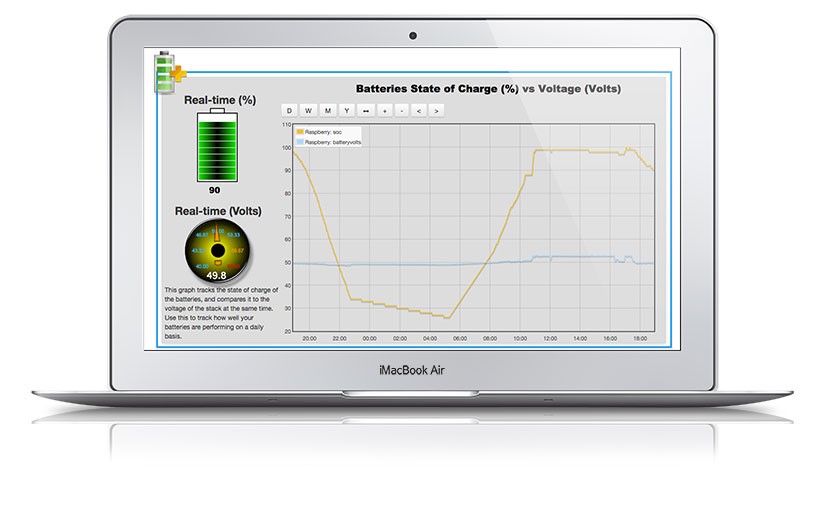 Combined Overview
A real-time graph displaying all the different power sources shows the performance of the solar panels vs the performance of the batteries vs the grid consumption, and how they all link to each other. Looking at this graph we can see exactly how well the system is performing, when it runs off-grid, as well as when grid power is used to assist in the charging or powering of the different loads.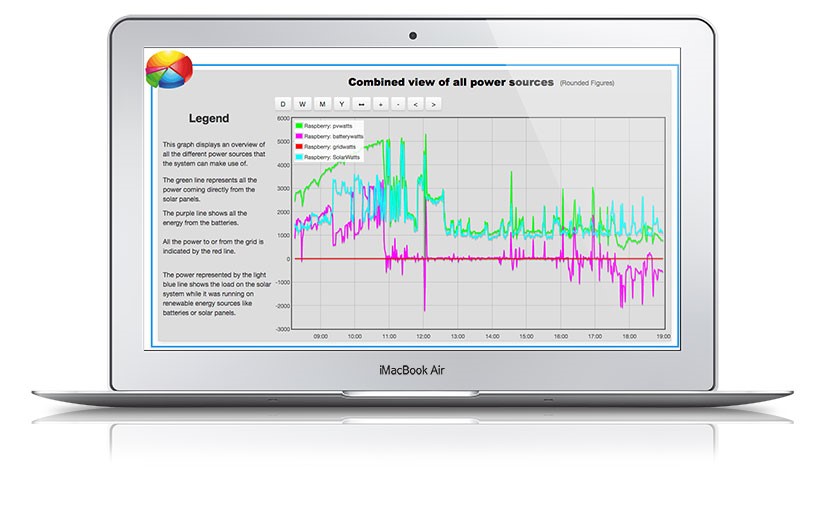 Cell Phone Monitoring
Having your system connected to the cloud portal enables you to monitor the system directly on your phone with the Android App.
Multiple systems on one phone are now supported, making it the perfect companion for installers to ensure the health of all the systems they build.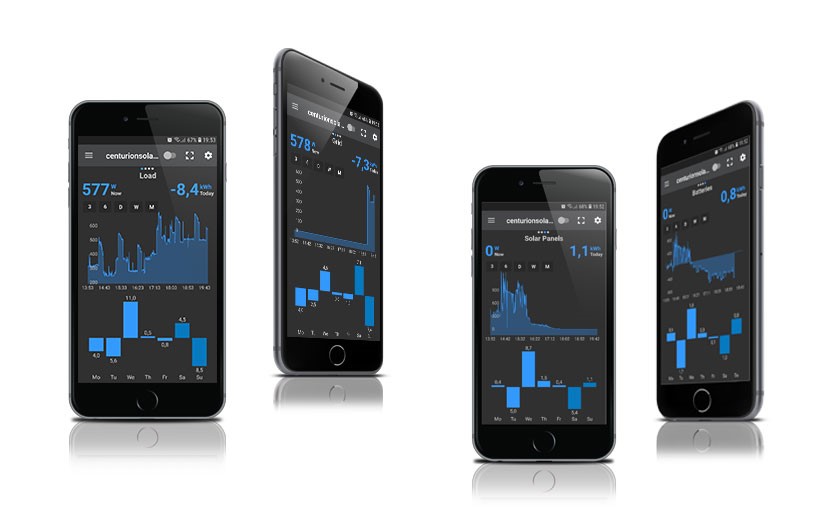 Watch the Video for an idea of how the Software can help better monitor your system
Video Demo – https://youtu.be/M9PLPzRQjdo